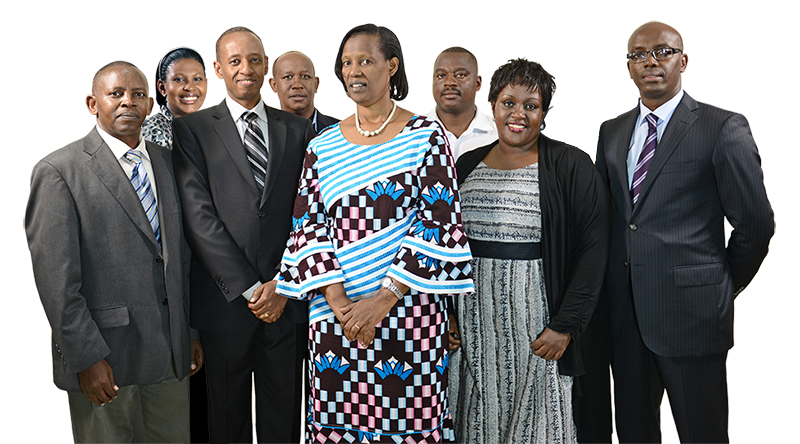 Horizon Group is an investment company that was created in 2007 with a mandate to incubate resources for Rwanda through creation of businesses that deliver on value and social impact. Today the company owns three subsidiaries companies that include: Horizon Construction which focuses on infrastructure development; Horizon SOPYRWA which focuses on production, processing and export of pyrethrum and Horizon Logistics, which specializes in peace keeping logistics, leasing of equipment, clearing and freight forwarding.
We adopt a collaborative approach in our businesses, which over the years has resulted in local and international partnerships that have strengthened our business leverage in terms of market expansion, experience, skills and technology transfer.
COMPANY OVERVIEW
Horizon Group is a unique investment company concerned with the financial, social and environmental impact of businesses in Rwanda. We are committed to building sustainable and profitable organizations that contribute to the growth and success of Rwanda and the region.
Horizon Group takes a long-term view of its investments, ensuring that its portfolio of operating companies and joint venture partnerships have the support they need to make a positive impact in the market. Through sound management and the provision of value-added products and services, Horizon Group and its subsidiaries represents the best of Rwandan ingenuity and integrity.
This short documentary explores the growth of an entrepreneurial mindset in a country once devoid of anything resembling a functioning economy. After decades of civil war, the Rwandan Patriotic Army (now the Rwandan Defense Force) set out to rebuild the country. What followed defied the traditional idea of a victorious African army: of an army that strives for power before using its resources toward country development
MISSION
To build sustainable and profitable organisations that contribute to the growth and development of Rwanda and the region.
VISION
To build a strong future for Rwanda through investments that deliver value, social impact and prosperity.
BOARD OF DIRECTORS

Rebecca R. RUZIBUKA
Managing Director
Rebecca Ruzibuka is the Chairperson of Horizon Group Board of Directors. She is the founder and Managing Director of Africa Development Consultants. She has more than eight years experience in managerial positions and fifteen years of university teaching in the areas of business administration and entrepreneurship development. Rebecca holds a Masters in Business Administration from Emposia State University, USA.

Francis MUGISHA
Vice Chairperson, Board of Directors
Francis Mugisha is a Fellow of the Chartered Institute of Management and Accountants. He served as Founding Vice-President of the Certified Public Accountants of Rwanda (ICPAR) from 2009 to 2011, during which he also served as a Council Member of the East, Central and Southern Africa Federation of Accountants (ECSAFA).
Francis has also served as a Council Member of Superbrands East Africa and is a non-executive director for the Rwanda Development Board. He has served in other capacities including the Rwanda Public Financial Management Tax Appeal Committee. He is the Chair of Falcon Capital Investment, a private investment fund. He is also the Founder and Managing Director of MCA, a management consulting firm.

Eugene M. HAGUMA
CFA
Haguma is a Chartered Financial Analyst with vast experience in public sector investments and banking and real estate management. He holds a Master of Science in Financial Management from the University of London and a Bachelor of Commerce from Makerere University in Kampala. He is a member of the CFA Society of South Africa and the East Africa Association of Investment Professionals. He also currently serves on the Index Committee of the Rwanda Stock Exchange.
As Chief Executive Officer of Horizon Group Limited, Eugene oversees all company operations and its subsidiary companies including Horizon Construction, Horizon Logistics and Horizon Sopyrwa.

Lyliose NDUHUNGIREHE
Lyliose is the founding Partner of Upcode Africa, a mobile access & interaction systems company implementing the technology solutions in Rwanda & East Africa.
With over seven years of experience, Lyliose, has served as programmer and test analyst as well as IT Project Manager and test leader. She has served at Euroclear bank in Brussels, Belgium and Banque Populaire du Rwanda.
With a combination of IT skills and civil engineering, Lyliose contributes significantly to Horizon Group in the areas of project management and IT security systems as they related to business functioning and development.
Lyliose has a Master Degree in Civil Engineering from the University of Sciences and Technologies of Lille-France and currently pursuing an Executive MBA from the Maastricht School of Management

Eng. Narcisse HAGENIMANA
Managing Director, ART S.E.C
Eng. Narcisse Hagenimana is a Civil Engineer and member of the Rwanda Association of Civil Engineers. With over 12 years of professional experience in architectural and structural design, Narcisse has provided leadership and coordination to teams of architects and engineers to undertake technical studies and develop architectural & structural designs for high-rise commercial buildings within the country.

Maj. Corneille Emile NKUNDIMANA
ACCA
As Chief Financial Officer at Zigama Credit and Savings Society, Corneille coordinates and supervises the bank's team of accountants to implement effective financial processes and ensure sound financial management of the Bank. He is a qualified Accountant and member of the Association of Certified Chartered Accountants

Mary A. RWANGOMBWA
MBA
Mary Asiimwe Rwangombwa has a Masters of Business Administration from Maastricht School of Management in the Netherlands. She has 16 years of experience in Economic Development, Finance, Administration and Human Resource Management. Her extensive experience was gained while serving as the Deputy Mayor of the City of Kigali, Deputy Executive Secretary at the National Electoral Commission and as the current General Manager for Human Resources and Administration at MTN Rwanda.

Faustin K. ZIHIGA
Executive Vice President and Chief Relationship Officer, Urwego Opportunity Bank, Rwanda
Sustainable International Development Professional & Educationist with a Masters Degree in Sustainable Development, Brandeis University. Prior to his appointment to the post of Executive Vice President and Chief Relationship Officer for UOB, Faustin served as the Managing Director before its merger with Opportunity International Bank of Rwanda. He had earlier served as Director of Operations National Peace & Leadership Program of the National Unity & Reconciliation Commission. He also served as Head of Department for Immigration Services under the Ministry of Internal Affairs. Within 21 years of professional experience, Faustin has acquired organisational leadership and management skills and experience. Faustin served as the Chairman of the Board of the Association of Microfinance Institution of Rwanda from 2008 to 2013.
He is currently Chairman of the Board of the East African Microfinance Network and a member of the Rwanda National Payment Council.